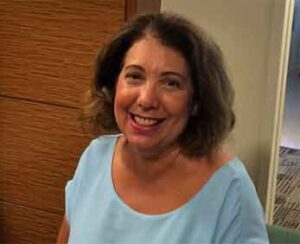 Catherine Greenblatt – Co-President
What do you think of when you think of a synagogue? A place to worship during the High Holy Days? A place to give your children a Jewish education? A place used only for life cycle events? Temple Beth Shalom is more than 'that place'. We are a living, breathing community. Yes, we have wonderful High Holy Day and weekly services led by our Rabbi Rebecca Shinder. Yes, we offer a strong, vibrant Hebrew School and, yes, we are here for you when you and your family are in need of a life cycle event. Beyond all that we are responsive to the needs and welfare of our congregational family.  Temple Beth Shalom is my Jewish home. Make it yours. We welcome you!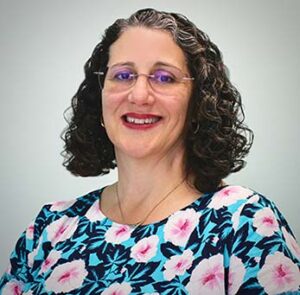 Wendy Cedar – Co-President
I grew up here at Temple Beth Shalom. When we first became members the congregation was affiliated with the Conservative movement. My father z"l* was on the board and became president in the early 1970's. During that time-frame, with the retirement of the rabbi, it was decided that the temple would hire a Reform rabbi & become a URJ (then UAHC) member. Around that time as well, my mother z"l* was asked to join the board as treasurer – becoming the first female member of the TBS board. In the late 1970's, when I was to become a Bat Mitzvah, it was decided that girls could now read from the Torah during their Bat Mitzvah, since, after all, we had been a Reform congregation for a few years already. As it happened, I became the first Bat Mitzvah to read from Torah at TBS. As I grew into Jewish adulthood in Warwick, I couldn't wait to get out of Orange County & spread my wings! I even went to Israel for a few years to learn more about what it meant to be a Jew in the world. Yet, I was drawn back to Warwick as an adult to open a business with my family. Many years later, as a now-single parent looking for a Jewish home for myself & my daughter, I re-discovered a TBS that not only allowed B'not Mitzvah to read from the Torah, but had a female rabbi (and had had one for several years)
I am honored to now follow in the footsteps of both of my parents and give back to TBS, while doing what I can to ensure its existence for other families who seek a positive, supportive Jewish connection in Orange County & the surrounding areas.
Please do not hesitate to reach out to me or Catherine with any input you may have regarding keeping our community strong for us & for generations to come.
z"l: Zichrono/a livracha – or – may his/her memory be a blessing. This is the traditional Jewish saying when someone has passed, as opposed to "may s/he rest in peace".
Executive Board & Trustees
Jeff Hannes – 1st VP
Eric Goodman – 2nd VP
Andy Hannes – Treasurer
Beth Kalet – Recording Secretary
Gail Conklin – Corresponding Secretary
Robin Bordman – Sisterhood President

Felicia Gell




Gail Green




David Halper




Rita Laskin




Matt Lederman




Rob Levin




Shannon Pollock




Judy Potter




Janne Sommer