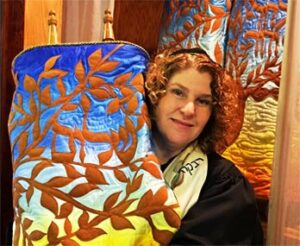 Rabbi Rebecca Pomerantz Shinder
I have had the great privilege of serving as the Rabbi of Temple Beth Shalom since July, 2005. I came to the congregation with a wealth of experience gained from working with many Reform congregations and summer camps as an Assistant and Associate Rabbi, Cantorial Intern, Supervisor of Programming and so much more. Beyond my full resume, I approach my sacred work with this congregation with awe, education, music, humor, and an understanding that today's modern Jewish Family is by no means designed by a cookie cutter. One of the many strengths of our community is its celebration of diversity. Many of our Temple Beth Shalom families comprise of Jews by birth, Jews by choice, and gentiles who consider themselves to be "Jews by affiliation." All who wish to worship, educate themselves and their children, and do hands on mitzvah work to make our world a better place are welcome at TBS. Some of our member families have three generations, and others have been newlywed gay couples that I have married; some of our children were born in the U.S, and others have started their Jewish journeys in other parts of the world. In other words, our temple family is diverse, and eager to welcome future members who wish to connect both to Jewish tradition and a Jewish community.
Rabbi Shinder was ordained as Rabbi from the Hebrew Union College – Jewish Institute of Religion in 2000.
She also is a Magna Cum Laude graduate of The University of Rochester.
She lives in Northern, NJ with her husband, Larry, and their three children: Jeremy, Jacob, and Hannah.