Just as religious schools throughout the world have had to rethink what is possible to achieve their goals, so too has TBS, with great consideration, reimagined how we provide a vibrant, relevant and meaningful Jewish education. As ever, our focus is to teach our children the fundamentals of Judaism – and underpinning it all, our educators spark that Jewish spirit – through song, dance, arts, crafts, stories and history. At TBS, our children learn how to do, think, feel and be Jewish.
We at TBS offer radical continuity amidst the radical change that resulted from Covid. Among our reforms you'll find our enhanced Thursday Zoom Hebrew School with elements of our previous Religious School curriculum. This includes opening a NEW Zoom classroom for children in grades K-2.
For a multi-age experience, we've designed another radical educational shift. We take our cues from the world around us and focus in on how they apply to Jewish learning. Our TBS community now leans in to a community based learning experience called YACHAD, the Hebrew word for together. These monthly sessions are designed for our TBS family of families to make memories and to make a difference. Check out the Shofar for each month's offerings.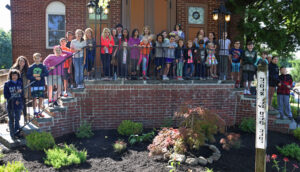 For the past seventy years, we have worked to fulfill a promise to our community: To help shape the young minds of our children toward a Jewish identity.
We provide experienced and knowledgeable teachers who truly care about their students. Small classes enable each child to be known as an individual. We use interesting and motivating texts and materials. School includes hands-on projects, book fairs, Mitzvah Days; and other acts of Tzadakah, class Shabbats and unique services. There are frequent opportunities to meet with other Jewish students, and visit places relevant to our Jewish culture and history through group activities and trips. We are a small school within a small temple but we accomplish much.
We're proud of our endeavors and of the accomplished, successful adults who have graduated from our school through b'nai mitzvah and confirmation. And we are especially proud that many of our young temple members choose to keep the continuity as members and leaders of TBS youth group. These are the children who mentor our youngest students. They're our TBS role models. They're helping shape the future of TBS and the future of Reform Judaism.
Providing the children of Temple Beth Shalom with an education was one of the first priorities of the Hebrew Community Center when it was organized in 1947. The Florida Fire Department supplied a Sunday School room. Our Synagogue building was dedicated in the fall of 1951. The Chiron-Friedman School wing was added in 1961. As our student population grew, the need for more space became evident to all. Through the generosity of William and Viola Rosenberg and our temple members additional classrooms were dedicated in 2000.
Your Board of Education takes pride in its students and we thank God, our parents and our community for providing us with such a treasure of outstanding young people. We can only pray that our Temple Beth Shalom continue to grow and prosper. We dedicate ourselves to assisting in this majestic endeavor.
Shalom,
Rita Laskin
Chairperson, Board of Education
NEWS FEEDS FROM THE UNION FOR REFORM JUDAISM