HEBREW SCHOOL / RELIGIOUS SCHOOL SCHEDULES
Hebrew School is Zooming every Thursday at 4:30. Please check the calendar for any cancellations.
Sunday, January 22nd – Field trip with the Monroe Temple Torah School to the Jewish chapel at West Point. Families will caravan down and and meet at The Visitors Center at 9:15AM before we drive on campus. There will be a tour and short introduction around 9:30 (depending on how long it takes to gain entry) at the Chapel. Then there will be brunch of bagels, tuna salad, egg salad, etc., with some of the cadets. We will head home between 11-11:30. Please RSVP to rabbishinder2000@gmail.com so that she can give numbers to the Chaplain there. Parents are welcome/expected and should be included in your count. 
Saturday, February 4th  10-12 –  Shabbat Shira Musical Service, Program & Lunch
Sunday, February 5th 10-12 – Tu B'shavat Yachad – please see flyer on home page
Saturday, February 11th 8AM – Mitzvah Day at the GOSHEN Food Pantry Give Away
Friday, March 3rd  5:30PM –  Religious School and Shabbat Across America Dinner & Program
Sunday, March 5th 10-12 –  Purim Program & Carnival at the Monroe Temple
Sunday, March 19th 10AM –  Mitzvah Day
Sunday, April 2nd 10AM –  in person Passover Yachad
Sunday, April 23 10AM –  Religious School Mitzvah Day
Friday, May 5th 5:30PM –  Religious School Dinner
Sunday, May 7th 10Am –  Religious School Yachad Picnic
---
Much has changed since our time before, during, and immediately after the pandemic. Something that has remained constant is the importance of Jewish education, socialization, celebration, and doing our part to make this world a better place. We have heard your suggestions and concerns regarding how to maximize your family's time and how to keep your children connected to one another. TBS is offering a variety of classes, programs, and services that will complete what once was called the Religious School experience of yesteryear.
The first element will be two different tracts of learning on Thursdays from 4:30 – 5:45 pm on Zoom at bit.ly/tbsschool. Students in grades K-2 will have TBS 101 and Jewish Fun. They will play games, listen to stories, and get exposure to Jewish prayer and holidays. Students in grades 3-7 will learn a traditional Hebrew School curriculum. All levels will be assigned a Hebrew color and will participate in school-wide assemblies and individual class instruction.
The next element will be in-person Shabbat dinners/Pizza Parties on the first Shabbat of every month. The dinners will begin at 5:30 pm and will include blessings, games, and mixers. The 7 pm Shabbat service that follows the dinners will feature prayers and songs the children will learn on Thursdays, have birthday blessings, a coloring corner for our younger students, and an oneg (reception) complete with a birthday cake! The first Saturday of the month will offer a Zoom Shabbat morning learning service for our older students on bit.ly/tbsservices.
We will offer biweekly programs for learners and mitzvah doers of all ages. Both the monthly Yachad events and Mitzvah Projects are vital elements of our school curriculum. Because of holidays, both secular and religious, dates may change, but, in general, we will have a Mitzvah Project on the first Saturday or Sunday of the month and Yachad on the third Sunday of the month. In-person Shabbat services are suspended for January and February 2023. We will continue via Zoom with blessings as above. There will be in-person Yachad and Mitzvah Day programs, which you will be notified about.
We look forward to this re-JEW-venation of our school program. We have learned a great deal about how to create Jewish spaces that are both in-person and through a medium that minimizes commutes and maximizes attendance. May this be a fantastic year for us all!
L'hitraot (see you soon!),  Rabbi Shinder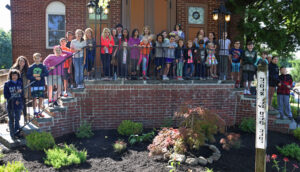 For the past seventy years, we have worked to fulfill a promise to our community: To help shape the young minds of our children toward a Jewish identity.
We provide experienced and knowledgeable teachers who truly care about their students. Small classes enable each child to be known as an individual. We use interesting and motivating texts and materials. School includes hands-on projects, book fairs, Mitzvah Days; and other acts of Tzadakah, class Shabbats and unique services. There are frequent opportunities to meet with other Jewish students, and visit places relevant to our Jewish culture and history through group activities and trips. We are a small school within a small temple but we accomplish much.
We're proud of our endeavors and of the accomplished, successful adults who have graduated from our school through b'nai mitzvah and confirmation. And we are especially proud that many of our young temple members choose to keep the continuity as members and leaders of TBS youth group. These are the children who mentor our youngest students. They're our TBS role models. They're helping shape the future of TBS and the future of Reform Judaism.
Providing the children of Temple Beth Shalom with an education was one of the first priorities of the Hebrew Community Center when it was organized in 1947. The Florida Fire Department supplied a Sunday School room. Our Synagogue building was dedicated in the fall of 1951. The Chiron-Friedman School wing was added in 1961. As our student population grew, the need for more space became evident to all. Through the generosity of William and Viola Rosenberg and our temple members additional classrooms were dedicated in 2000.
Your Board of Education takes pride in its students and we thank God, our parents and our community for providing us with such a treasure of outstanding young people. We can only pray that our Temple Beth Shalom continue to grow and prosper. We dedicate ourselves to assisting in this majestic endeavor.
Shalom,
Rita Laskin
Chairperson, Board of Education
NEWS FEEDS FROM THE UNION FOR REFORM JUDAISM